Ocean waves crash against rocky shorelines. Sandy beaches expose seashells of varying colors, shapes and sizes. White gulls hover over waves and wade through shallow tidal pools. A highway twists and turns for more than 360 miles north and south. Picnic areas, campgrounds, lighthouses, hiking trails and small communities abound along this stretch of road, welcoming visitors – and their dogs – to the majestic Oregon Coast.
Like Colorado, Oregon is among the top ten states in America noted for its pet-friendliness. From trails and beaches to restaurants and lodging facilities, dog-parents find the welcome mat rolled out for their canines. If you're looking for a special place to travel with your pup, the Beaver State should be on your list.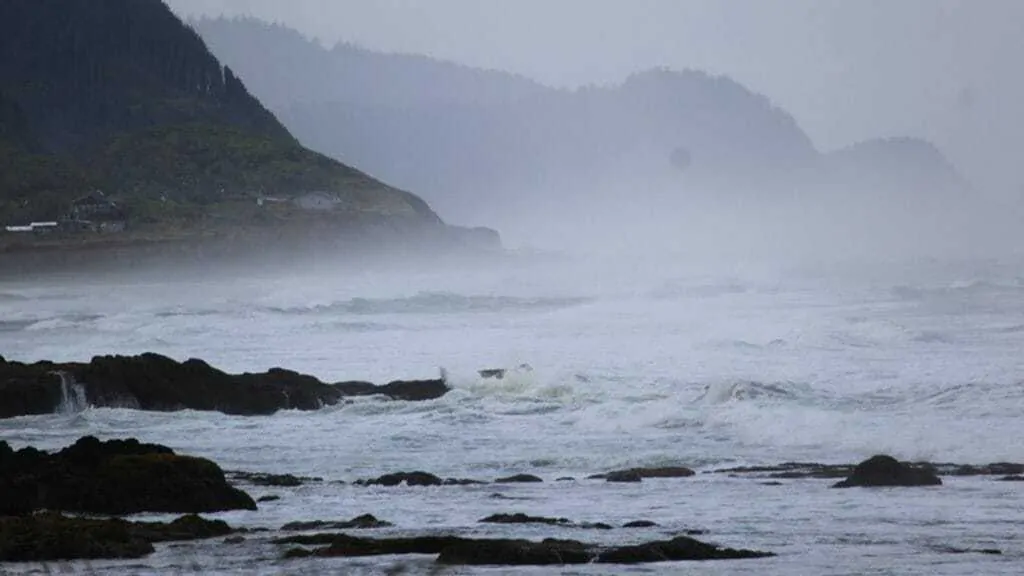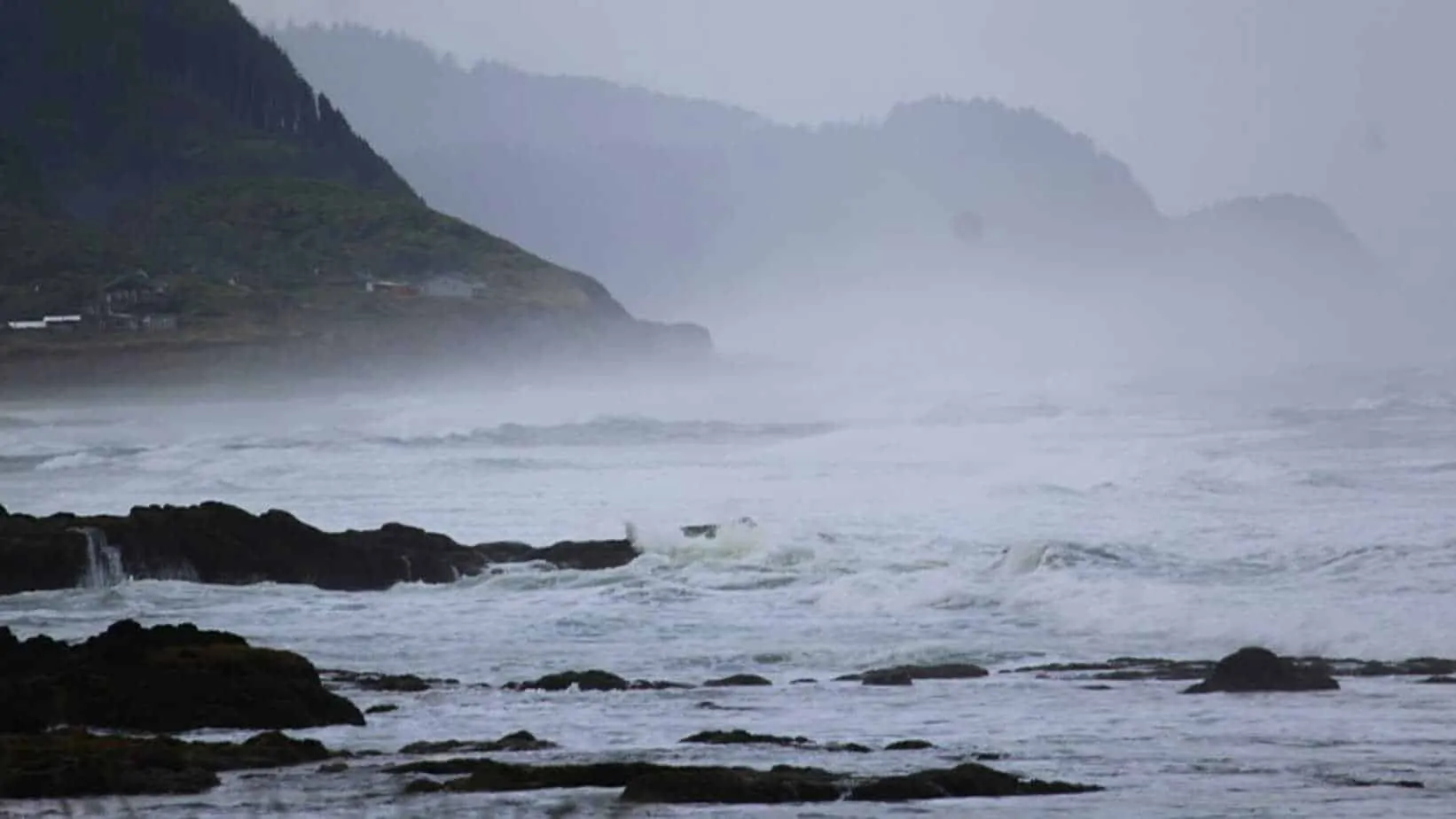 Rocks, waves, and sometimes mist, welcome visitors to Oregon's Pacific Coast.
Here are ten ways you and your dog can enjoy the Oregon Coast together: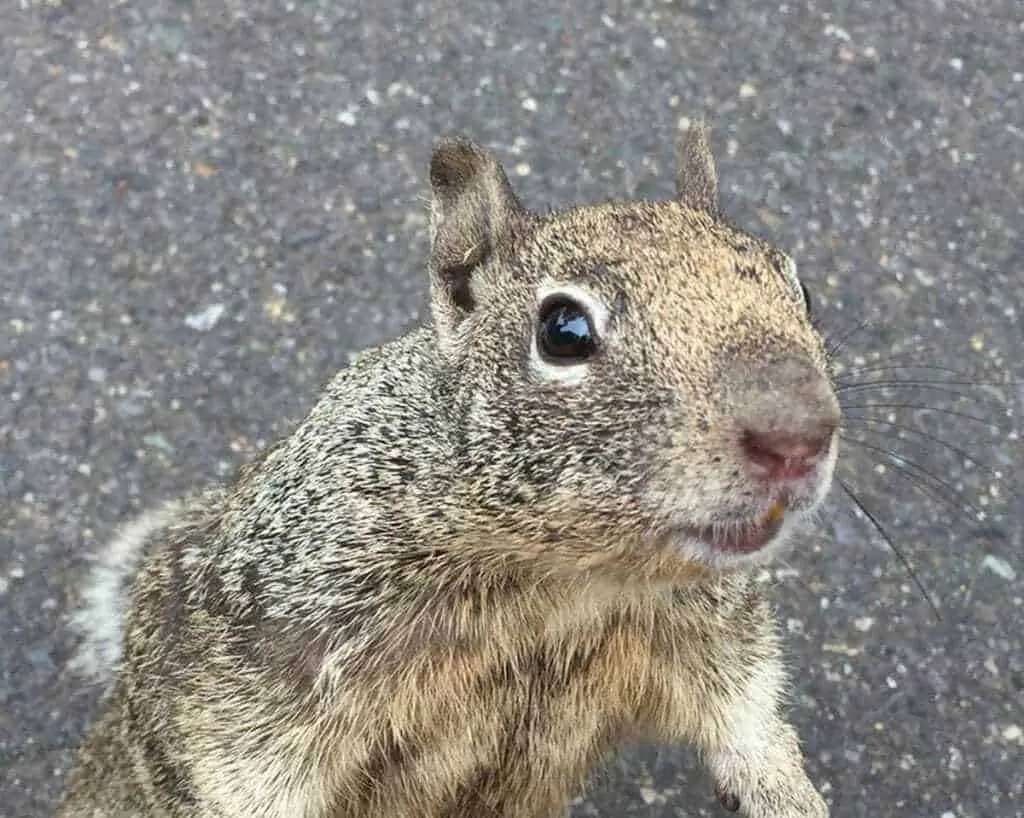 Various types of wildlife can be found throughout the Oregon Coast, including squirrels like this one at state parks.
Contents
Observe Nature
     Watch for wildlife. The Oregon Coast abounds with wildlife. Marine mammals like whales and sea lions are often spotted from observation points along the coastal highway. The State Parks Department employs a program called Whale Watching Spoken Here, by which volunteers spread out across 24 sites along the coast and engage with and educate visitors about the whales seen along the Oregon Coast. Gray whales can be seen from the shoreline year-round, but a week during winter and another in early spring provide even more opportunities to view these massive migrating marine mammals. Companies like Marine Discovery Tours out of the mid-coastal town of Newport takes boat tours onto the ocean, searching for whales, porpoises, seals, sea lions, bald eagles, and other species. Additionally, guided tours from Northwest EcoTours, also out of Newport, takes people on tidal and forest excursions. According to BringFido.com, dogs are allowed on some of these adventures. You can also wildlife watch on your own, with your dog by your side, simply by driving coastal Highway 101. You might spot various types of birds and mammals, including herons, gulls, and other birds, as well as ground squirrels, tree squirrels, and elk. The Dean Creek Elk Viewing Area near Reedsport is year-round home to a herd of 60 to 100 Roosevelt elk; the animals are visible almost daily due to the rich forage of the area. Several pull-outs allow excellent photo opportunities. The area is managed by the U.S. Bureau of Land Management and the Oregon Department of Fish and Wildlife and is also a popular bird watching spot.
     Spend time at a state park. Oregon boasts 255 state parks, making it one of the best places for outdoor enthusiasts. Whether you enjoy camping, hiking, picnicking, bike riding, outdoor photography, even whale watching, state parks along the coast will satisfy your appetite. Many parks are found near or along beaches, providing wading, swimming, tide pooling, fishing, and boating activities for you and your dog. One of the best pieces of news regarding Oregon state parks is that most do not charge a fee for day-use. In other words, you can spend the day at one park or travel to several in one day and pay NOTHING. If you do overnight and prefer staying at a cabin or yurt instead of a tent or RV, many state parks along the Oregon Coast can help with that desire, too. You don't have it "rough it" to enjoy time at Oregon's state parks!
Exercise Outdoors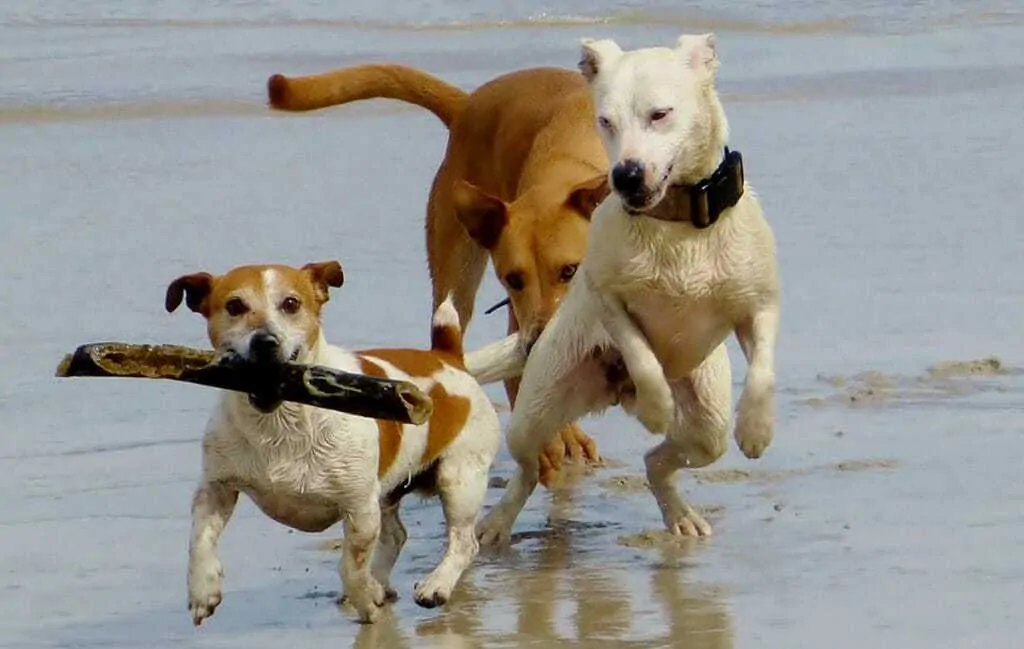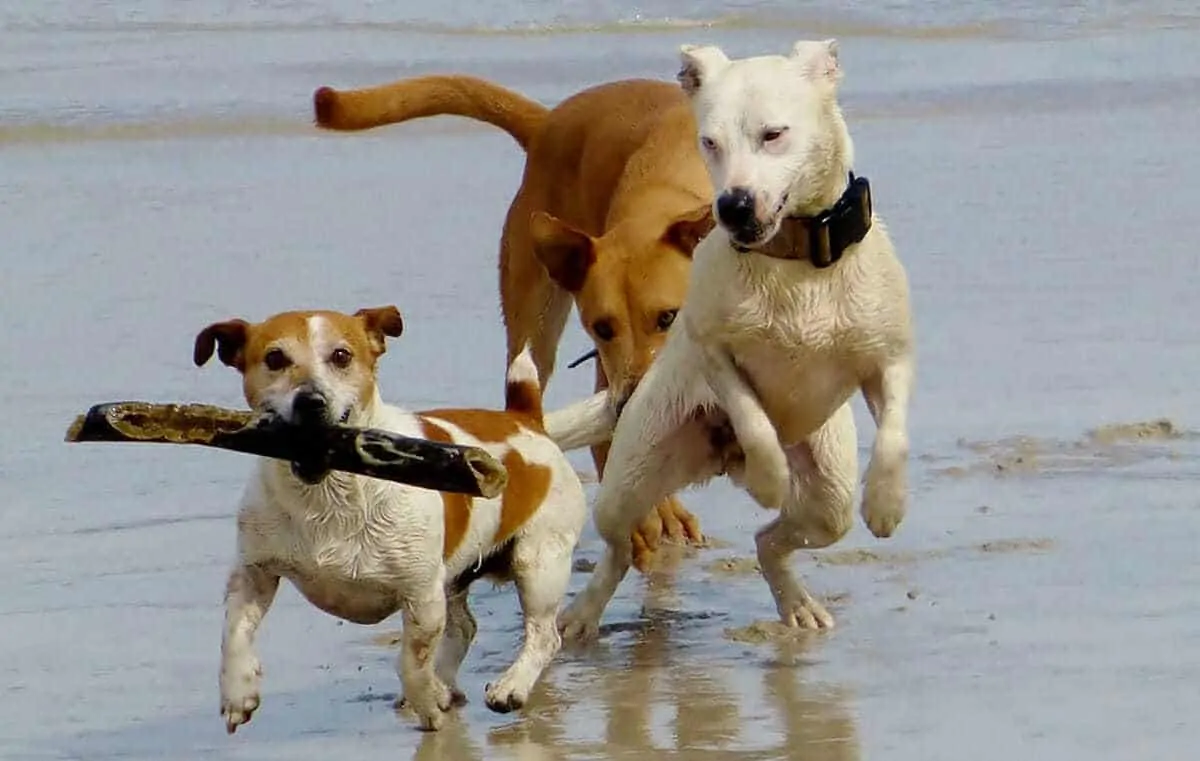 Public beaches are found throughout the 340+ miles of the Pacific Coastal Highway (Highway 101) in western Oregon, creating playgrounds for both pups and their human companions.
   Roam the beach. The sound of waves pounding rocky hillsides, the smell of tides rolling into shore, the feel of mist spray upon your face – the ocean speaks its unique language. From Astoria and Cannon Beach in the north to Coos Bay and Gold Beach in the south, Oregon visitors and residents have miles upon miles of beach access. Standing in the waters of the Pacific Ocean, the tingle of waves lapping at your feet, viewing a seemingly endless sea, one cannot help but be in awe of the beauty of the coast. Hunting for seashells, observing tide pools, bird watching, swimming, fishing, playing in the sand, or relaxing in the sun are just a few of the numerous activities you can enjoy on Oregon Coast beaches. Walk or hike a nature trail or ride a horse along a trail are two other activities that one can do. Your dog will love to play with sticks or fetch a special prize while running through the sand. Most Oregon Coast beaches are dog-friendly; many, in fact, allow dogs off-leash. However, owners need to keep a leash handy and hook up their dog at the request of State Park or U.S. Fish & Wildlife officials. Many shorebirds nest near the beach, and laws are in place to protect the wildlife. Dog owners need to pick up after their pooches, disposing of waste properly, helping to keep the area clean for everyone's enjoyment. Retaining pet responsibility etiquette helps ensure dogs will continue to be welcome on Oregon Coast beaches.
Take a hike. There are numerous dog parks found in coastal communities at which your dog can run and play, but if you want to "get off the beaten path," so to speak, you and your canine companion can do just that. Thousands of trail miles await hikers in Oregon, and the Pacific Coast is no exception. In fact, the Oregon Coast Trail covers more than 340 miles along the ocean north and south. Oregon has an extensive network of federal, state, and local trails, many which are designated as "scenic." Several of these showcase the state's outstanding natural features, such as rivers, mountains, waterfalls, and the Pacific Ocean. Many hiking trails are pet-friendly, allowing you and your four-footed companion to experience the varied scenery as well as ocean views. Short treks or long hauls, if you enjoy nature, you and your furry friend will relish the bounty of trails at the Oregon Coast.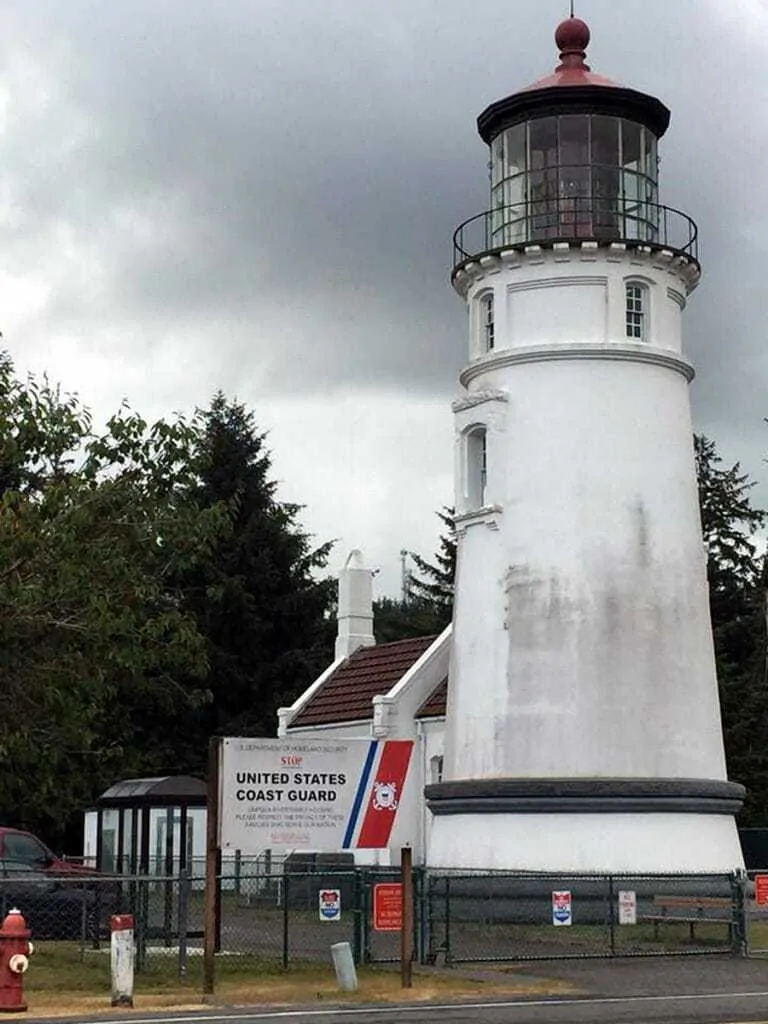 One of 11 lighthouses found along the Oregon Coast, many of which are open for public visitation – but sorry, no dogs allowed inside.
Relish History
     Visit a lighthouse. Traveling the Pacific Coast Highway (Highway 101) along the Oregon Coast takes people back in time not only geologically, but also historically. Lighthouses dot the landscape along the rocky shorelines. These structures served as beacons, guiding cargo ships, fishing vessels, and other maritime travelers during the eras before GPS. Most of Oregon's lighthouses were constructed between 1870 and 1896. There are eleven lighthouses dotting the Oregon Coast; the majority are listed on the National Register of Historic Places. Some have living quarters as part of the structure. Several are open to the public for either guided tours or personal visits, but not all. The U.S. Coast Guard manages some of the still-functioning lighthouses. The structures, which range in height from about 40-feet tall to more than 90-feet in height, do not allow dogs inside. However, surrounding areas, which most often are state parks, are dog-friendly. If you leave your dog in the car while visiting a lighthouse, be sure to keep a bowl of water in the vehicle. Or, better yet, find a pet sitter or boarding facility in one of the local communities through Rover.com before embarking on lighthouse tours.
     Engage with the past. In addition to lighthouses, other historical sites can be found along the Oregon Coast. North, near Astoria, one finds Fort Clatsop, where explorers Lewis and Clark spent the winter of 1805 – 1806. Although the original site decayed due to the weather during the past 200+ years, rough structures were created for the bicentennial during the mid-2000s. Lewis and Clark National Historic Park, operated by the United States National Park Service, is located nearby. Things to do at this historic site in addition to visiting the replicated fort, participating in ranger-led fort programs, and touring the Park Service's visitor center, include canoeing or kayaking the nearby river, watching wildlife, and taking a hike. Dogs on a leash are welcome at the site on trails and at the fort's parade grounds; however, they are not allowed in other places, such as the Visitor's Center and replicated fort rooms. Along the southern coast you'll find Battle Rock Park near Port Orford. This is a historic site commemorating the battle fought between Native Americans and a group of men who landed a ship in the area in 1851. Leashed dogs can explore this area. A visitor's center run by the city is located on site.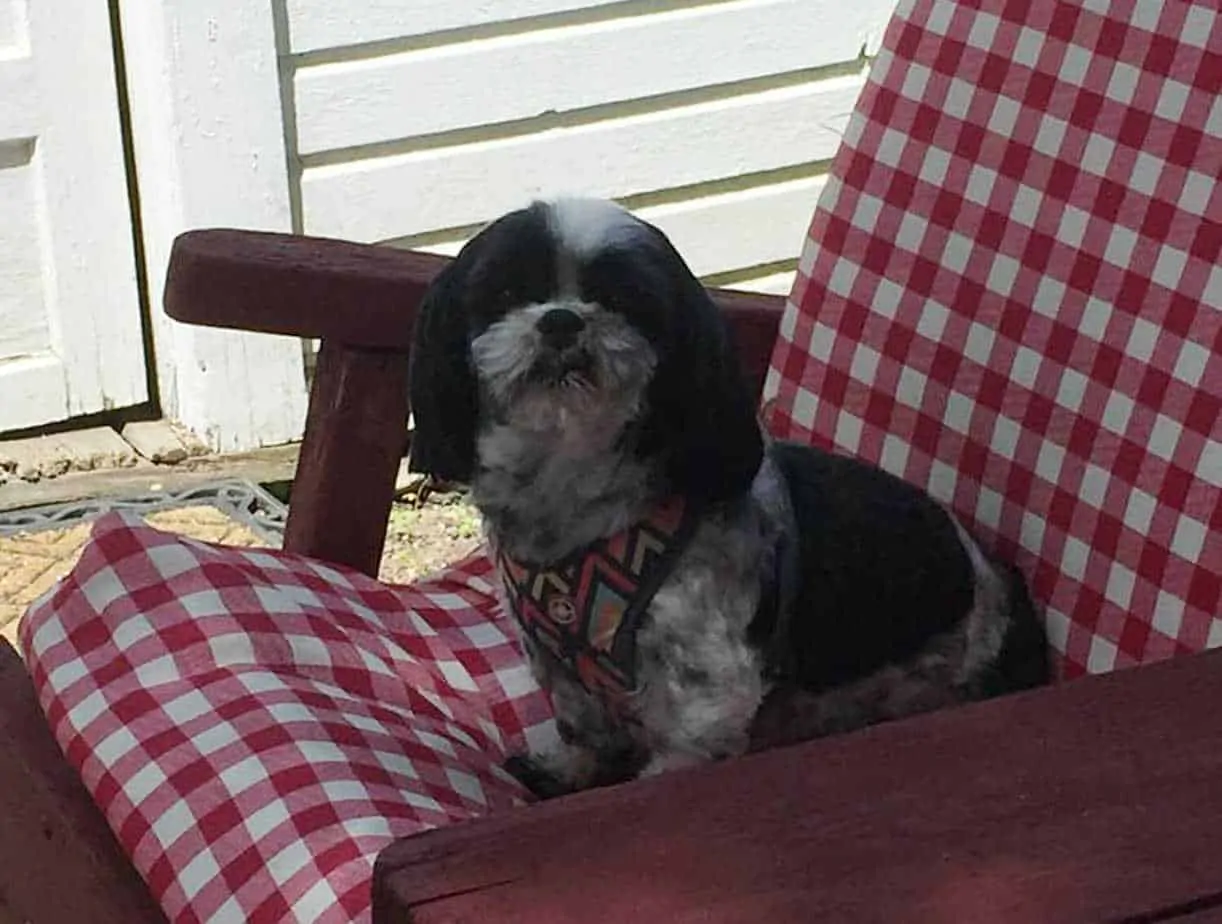 Dogs are welcome in many of the lodging options available at the Oregon Coast, including vacation rental homes. Some even provide outdoor relaxation areas for you and your furry friend.
Visit Small Communities
Enjoy pet-friendly lodging. From yurts and cabins at state parks to luxurious lodging options and Air B&B/Vacation Rentals by Owner sites, a visit to the Oregon Coast with your dog offers a plethora of lodging options. Some places charge an extra fee for furry traveling companions; those costs vary. Examples of pet-friendly lodging in Oregon coastal communities include: The Looking Glass Inn, located in Lincoln City, a Cape Cod style accommodation that overlooks a bay and the Pacific Ocean; Salishan Spa and Golf Resort at Gleneden Beach, a luxury resort where well-behaved dogs may be left unattended for short periods of time if crated, and leashed dogs can enjoy bacon-infused water during, Yappy Hour on the patio; and The Cannery Pier Hotel in Astoria, where pets of any size are welcome and your four-legged companion is given a non-allergenic treat at check-in – plus a nice area to walk your pet among the trees is located just off the dock. Many vacation rentals also allow pets and provide outdoor seating areas, garden spots, and other elements for relaxation.
Shop til you (both) drop! The small communities found along the Oregon Coast offer specialty stores, art galleries, and quaint boutiques for browsing and buying pleasure. Some allow dogs to accompany their guardians. For example, Inscapes Gallery in Newport welcomes well-behaved, leashed dogs to help their pet parents peruse the many creative arts found there. And of course there are the shops designed just for them, including Mini Pet Mart, with locations throughout Oregon, including the coastal community of Newport, Paws at the Bay located in Depoe Bay a few miles north of Newport, and Dog Style Boutique in Bandon along the southern coast, which sells clothing, toys, and raw food, among other things.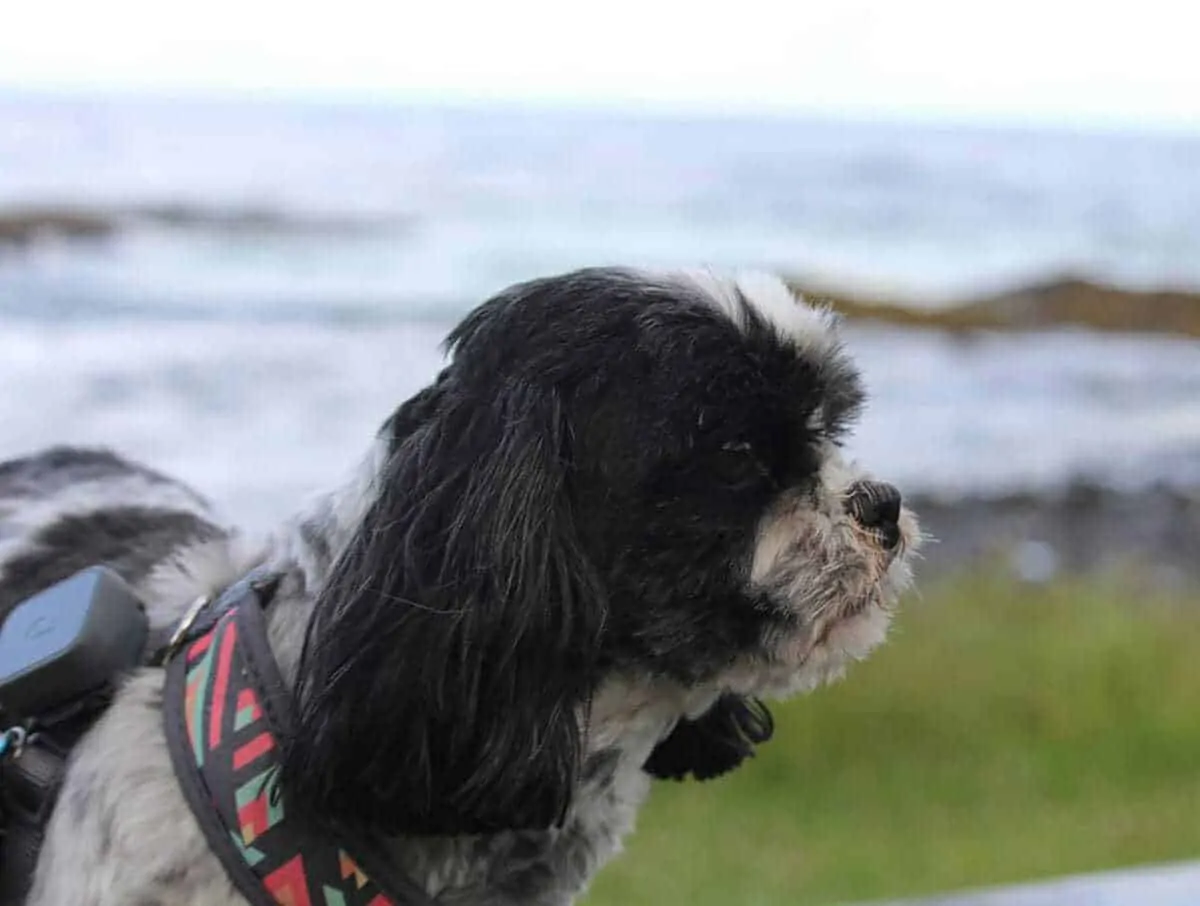 Dining in or dining out, at a pub, restaurant, or picnic area, your dog is welcome in many places along the Oregon Coast.
Feast on Local Cuisine
     Savor seafood. Whether caught from the ocean, dug from the sand, or plucked from a bay, salmon, halibut, crab, clams, and other foods from the sea tempt the taste buds of Oregon Coast visitors and residents. Freshness from the nearby waters brings delicious sea fare to the tables of numerous coastal restaurants. Many establishments permit pets, either on patios or inside buildings. Ecola Seafood Restaurant & Market, a family-owned establishment in Cannon Beach, serves wild Pacific seafood, including salmon and halibut, and homemade clam chowder; dogs are welcome at this fish market restaurant. Ocean Bleu Seafoods @ Ginos in Newport offers a variety of fare, from fish tacos to wild prawns, and provides sidewalk tables and a heated patio, both of which permit dogs. The menu at Luna Sea Fish House in Yachats boasts ling cod, sea scallops, albacore tuna, and other varieties of ocean foods. The restaurant is unique in that while it provides outdoor picnic areas, an enclosed feature is planned, according to the facility's website, replacing a tent that was erected to keep pet owners and their beloved dogs safe during inclement weather. Music is also on the menu here.
Indulge in adult beverages. Oregon is known for its craft brews and delicious wines. As of 2018, there were more than 280 breweries in the state, while it also boasts more than 700 wineries, offering selections for every palate; about 12 can be found along the coast.  The beach communities thrive with local breweries, pubs and wine offerings. Throughout your coastal commute, you'll discover amazing pubs and wine bars, many of which welcome canine companions. For example, Seaside's The Whet Spot, which opened in 2018, welcomes dogs inside the establishment with their people and serves both wine and beer. Tillamook's Pelican Brewery and Tap Room provides a patio for dog owners who want to savor the varieties of beer and have their furry friends alongside. And why not enjoy some cheese while you're in the area? The community is known for its delicious cheeses, and the Blue Heron French Cheese Company offers these tasty dairy products as well as wine – plus outdoor seating for those traveling with their dogs.

Rainstorms and sunsets dazzle the seas and skies along the Oregon Coast.
A trip to the Oregon Coast can be invigorating. The beauty of nature and the "roll out the red carpet" hospitality for dogs and their owners beckon millions of people here each year. Traveling with your dog to this majestic area can be an exciting, as well as relaxing, adventure for you and your canine companion.

Oregon ranks among the top ten most dog-friendly states in America. A trip to the state's Pacific Coast can be a delightful adventure for you and your furry companion. Self-taken.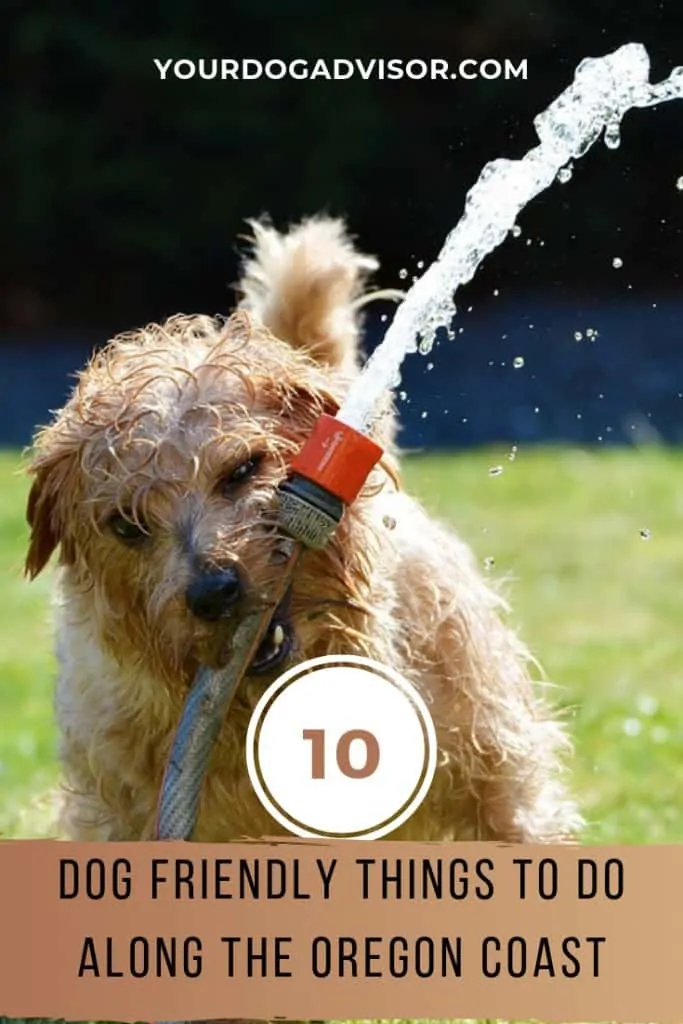 Reprinted with permission. https://yourdogadvisor.com/dog-friendly-oregon-coast/